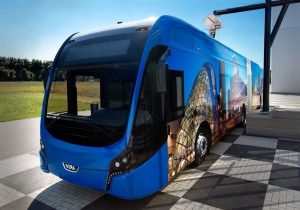 From beginning of december 2016 all public transport busses in the citys of Eindhoven and Helmond have electric traction. In total there will be 43 zero-emissions busses on the road.
"Transdev, first mover in zero emission public transport, commences operating the fleet on December 11th. One of the biggest problems the company had to solve was the limited operational radius of the buses. Transdev tackles this problem through a combination of ultra-fast charging technology and an innovative rotation system.
"Buses that run out during the day, can be charged within half an hour. The bus terminus in Eindhoven has been converted from a single diesel garage into a charging garage, containing 43 charging points. The buses are equipped with a type of pantograph — known for trams and trolleybuses — which can make contact with the charging point. This construction was never used at this scale in The Netherlands."
This approach is complemented by "extra" reserve buses — which can be used to cycle in for buses with low batteries.
The new electric bus fleet will be publicly showcased on the 9th in Helmond, so those in the area who are interested may be able to get a closer look at that time (before the buses enter service).
The CEO of Transdev Netherlands, Bart Schmeink, commented on the news: "This is an important step leading to sustainable bus transportation and a glimpse at the future of public transport."