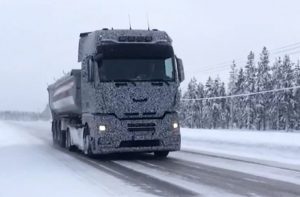 Our Iepieleaks spiesquad did it again! This time they spotted an MAN truck that is testing in Sweden. The truck was caught on the E45 in the Slagnas area. What we see here is a new generation of the TGX cab with the XXL roof. These are not the first photo's of the truck and it seems to us the roof is completely new. The sunvisor blockes the view but we think the windscreen is lower now. That should provide more interior stowing space and better temperature and sound isolation than before.
We espect more interior news, maybe even with an elektronic handbrake. That could make the console on the floor dissapear. Also the mirror housings do need work but probably MAN is also testing camera systems. Hopefully the news is going to be presented on the IAA exhibition this year in Hannover.
If you see somehting special on the road, please send us your photo's and video! And dont forget where you saw it first!
Thanks to Maarten for the footage!