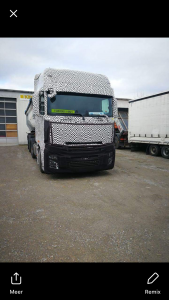 These photo's show a truck that we saw before and that raised a lot of questions. Some of the answers say it is a Turkish Ford, others think it is an Iveco. There is a change that both are right, since the two do work together in a way with engines.
Fact is that this is a huge cab for long haul transport. Our spie even took photo's of the interior and that looks very prommising. The cab sits high enough for a flat floor. The photo's are made in Germany and that could mean that Iveco is involved, but it can also have to do with components from Bosch, ZF, Wabco or other German company's.
Perhaps we see the real thing this year on the IAA in Hannover. If you spot scoops of trucks, please let us know!