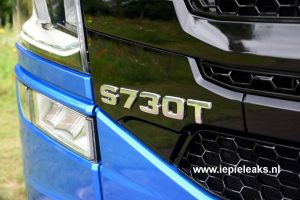 Vlastuin Truck&Trailerservice has revealed the new Scania S730T. This is the non-official bonneted 'nextgen' Scania truck that Vlastuin build out of a standard S730 Highline. The conversion is very well done and every detail is designed carefully. The original front bumper and fups are in the original position and therefor the safety of this truck is identical to the standard Scania models. Also the grill is original and that guarantees enough colling for the massive V8 engine.
Details like the side-fenders and the very smooth and slick rear wall of the cab are also available for standard Scania S- and R- models.
Vlastuin Truck&Trailerservice has a lot of experience with the conversion of Scania trucks into bonneted trucks. The company did already 50 of the previous Scania models.
For more photo's and a first video check: www.bigtruck.nl by clicking here!