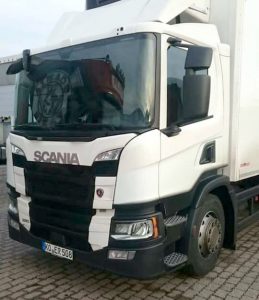 This year was very much dominated by a lot of Scania news. And yes, we did see and drive the new Scania R- and S- series. Still to come are the new construction- and distribution trucks. We do espect more introductions early next year but this is what we got so far. The photo's of the blue truck were published on Iepieleaks before, click here for that posting. 
Completely new is the white Scania P- cab that is posted here. It was sent in by a collegue but it is also to be found on Facebook. One thing that seems to have changed is the lower line of the door. On the blue study model that line made a curve and that is gone on the white cab. More information as soon as I get my hands on it! And keep sending them in!
iep@transwebgroup.com it the email adres.