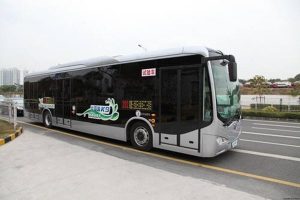 The Hyundai Motor Company is going to start mass-producing electric buses. The company believes that it should not hesitate anymore on markets for electric buses as global markets for electric buses including Chinese markets are expanding very quickly.
According to an electric vehicle industry on the 6th, Hyundai Motor Company is preparing to develop electric buses for purpose of mass-production. It is planning to finish development by end of next year and release electric buses in South Korea and other countries in 2018 after going through tests.
Although this is not the first time Hyundai Motor Company is producing electric buses, it is the first time when Hyundai Motor Company is producing electric buses for purpose of mass-production. When 'G20 Seoul Summit Conference' was held in 2011, Hyundai Motor Company introduced its electric vehicle called 'BlueOn' and 4 electric buses called 'BlueCity', which were produced manually, for ceremony purpose. Although it was planning to mass-produce them starting from 2014, it has been postponing this plan due to reasons such as marketability.
However it has decided to take actions in this market as demands for electric buses are starting to increase due to enforced regulations on environment by many countries including China, which is currently the world's biggest automotive market.
The Hyundai electric bus is a low-floor model with two 51 kWh Lithium-Ion batteries that use nickel, cobalt, and manganese as cathodic materials. Its battery will be either normal plug-in battery or exchangeable battery. However Hyundai Motor Company is also going to manufacture buses so that they can carry lithium ferric phosphate batteries as it considers characteristics of Chinese markets. Because 102kWh battery is going to be installed at the top of a bus, it will be able to drive more than 100km with just one charge.
The batteries can be charged at 800V and this will greatly decrease amount of time it takes to charge an electric bus. It is heard that LG Chemicals is likely candidate to supply batteries to Hyundai Motor Company.