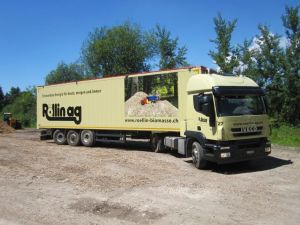 Steering system manufacturer VSE was recently involved in a special order in Switzerland. The firm of Röllin specialises in supplying wood chips for pellet stoves. The chips have to be loaded deep inside the Swiss forests. To do this, considerable height differences have to be overcome. Until now Röllin has mainly done this using four-axle and five-axle rigids.
VSE went to take a look and found that it was probably possible to carry a much greater load per trip. This would require a three-axle tractor with a heavy-duty PTO, thereby allowing the central trailer axle of the three to be driven via a so-called hydrodrive system. This system is supplied as an option by several truck makers for driving front axles that operate in conditions in which there is not really enough space for normal front wheel drive via an extra drive shaft. To make it possible to take bends quickly and without causing damage, the rearmost two trailer axles are fitted with VSE ETS-2. This means having a trailer which is 12.60 metres long, a length that Röllin could not have conceived of for this work. The trailer's front axle can also be lifted when driving without load. A further feature of the trailer that was recommended by VSE, is that it should be fitted with a walking floor system.
The hydrodrive system only works at low speeds. This makes it virtually perfect for climbing, particularly when heavily laden. In principle this extra drive operates up to 25 km/h, but if necessary it can also be programmed so that the hydraulics stays active up to 40 km/h.
The big advantage of this vehicle configuration for Röllin is that an extra fifteen cubic metres of pellets per trip can be carried. Using this combination provides significantly greater flexibility and the truck can also be coupled to other semitrailers. The transport performance of this combination is almost 50% better than that of the ones that Röllin is currently using. The rigids attain up to 50,000 km a year in the high mountains. The tractor-semitrailer combination reaches 75,000 km a year, partly because it completes the trip faster. Following a period of practical testing, Röllin has said it plans to use more tractor-semitrailers. The semitrailers will then again be fitted with VSE ETS-2 steering.