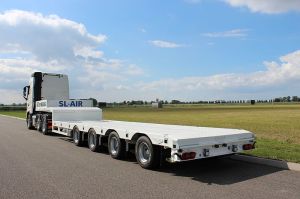 Dutch lowloader specialist Broshuis recently introduced a self-tracking SL-Trailer on air suspension. The trailer has independent suspension and therefore the same advantage as the hydraulic SL-Trailer, with 12 tonne per axle line, 79 cm loading height and a stable chassis.  Also the SL-Air is built up from standard parts, to keep the maintenance costs low and to ensure that replacement parts are easy to come by.
The self-tracking axle has a maximum steering angle of 30 degrees. According to Broshuis, this is unique for a self-tracking axle. Advantages of the new trailer are that this version is lighter, lower, better handling, more stable and a higher loading capacity than similar SL-trailers which are not air suspended.
Due to this new system a 4axle SL-Air trailer can do the job of a 5-axle, Broshuis says. The SL-Air is available in 3- and 4-axle versions.