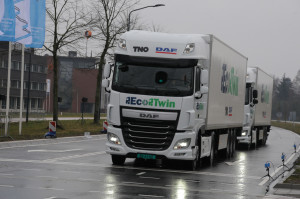 Today DAF Trucks and TNO did a presentation with the EcoTwin, a logical next step in the Platooning proces that makes it possible for trucks to travel at closer distance. By doing that up to 10% of fuel can be saved and less road is needed for trucks.
The EcoTwin works with WiFi transmitters and the second truck is able to drive by itself. So not only the throttle, and brakes are automated, also the steering. That is one step further than Scania showed earlier this year. To make this possible an electric engine is mounted on the steering column. Under the bunk there is are lot of electronics to steer the whole system. The presentation was held near the Automotive Campus in Helmond, near Eindhoven and in the audience there was the Dutch traffic minister mrs. Melanie Schultz van Haegen.
Click here for the Youtube movie of this project.