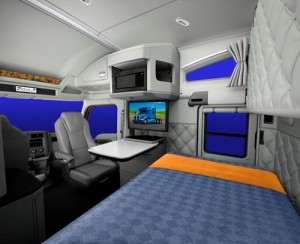 Kenworth announced the introduction of a new 76-inch mid-roof sleeper for the Kenworth T680 and T880 at the Mid-America Trucking Show. Full production is expected to start in the fall. The Kenworth 76-inch mid-roof sleeper is optimized for liquid bulk tankers, flatbed haulers and other operators looking for a lighter weight, more aerodynamic truck with all the driver comforts of a full-height sleeper.  The mid-roof sleeper provides 100-pound weight savings when compared to Kenworth's 76-inch high-roof sleeper and up to a 5 percent fuel economy savings for tanker and flatbed applications, depending on load conditions.
As far as driver comfort, Kenworth's 76-inch mid-roof sleeper provides drivers with 6-1/2 feet of headroom to offer taller drivers greater ease of movement and gives all drivers a spacious work environment, Kenworth assures us. The 76-inch mid-roof sleeper features a liftable lower bunk and side storage towers, including hanging storage for drivers to store their clothes. Also available is an optional upper bunk for team drivers or a back wall sleeper storage unit.
Available as a factory-installed option is the Kenworth Idle Management System. The battery-based auxiliary power unit system for air conditioning is integrated directly into the ducting system. Combined with an insulation package for the cab and sleeper, the system provides continuous AC performance in typical off-hour downtime. The sleeper offers a premium sound system installed at the factory, or a mount for the customer to install a flat screen TV for even more driver enjoyment.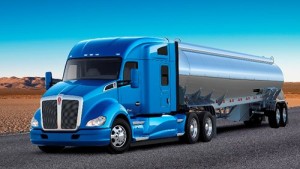 With the new addition, the Kenworth T680 family's configurations will include the 76-inch mid- and high-roof sleepers, 52-inch mid-roof sleeper, and day cab. The Kenworth T680 with the PACCAR MX-13 engine received the 2013 ATD Heavy Duty Commercial Truck of the Year award.
The Kenworth T880 family will include day cab, 52-inch sleeper and 76-inch mid-roof sleeper