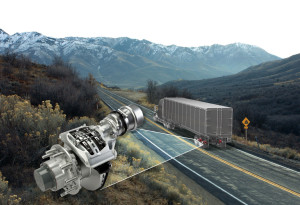 Wabco signs an agreement with the American axle producer Hendrickson for the delivery of a light weight air disc brake system for trailers in North America.
The new MAXX22T Air Disc Brake of Wabco reduces weight up to 100 LBS (45 kg) on tandem axle trailers.
As part of the agreement, WABCO will launch its innovative MAXX22T™ in North America, the most optimized ADB system for trailer applications in the region. The new system combines WABCO's leading braking technologies with Hendrickson's premier medium- and heavy duty suspension and axle systems.
WABCO's MAXX22T™ represents the commercial vehicle industry's lightest air disc brake in North America. It contributes to WABCO and Hendrickson's system offering overall weight reduction of up to 100 lbs on tandem axle trailers, thereby, helping to improve vehicle fuel efficiency or enable an increase in transport payload.
WABCO's proven single-piston design features approximately 25 percent fewer parts compared to other air disc brakes available in the market. Therefore, it helps improve reliability and installation efficiency while lowering maintenance costs. In addition, WABCO's bi-directional adjuster minimizes the risk of hot running brakes.