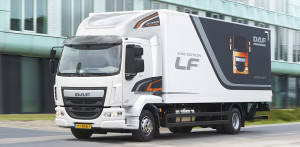 DAF is introducing a large number of innovations to the popular LF series for distribution transport. Optimised drive lines, a new aerodynamic package and an even greater choice of wheelbases and fuel tanks contribute to an even higher return per kilometre. Most LF 2016 Edition models also have the latest comfort and safety technologies fitted as standard, including AEBS, FCW, ACC and LDWS.
The numerous innovations DAF is introducing for the LF series fit into the philosophy of DAF Transport Efficiency: lowering operational costs and further increasing profitability. This also applies to the new LED rear lights with their long service life, the new Frigoblock generator preparation for the 4.5-litre PX-5 engine and the central display on the dashboard, which now also provides tachograph information, including driving hours, the next scheduled service and about the bodywork.
One of the major advantages of the new LF 2016 Edition is the expanded ability to tailor a vehicle to its specific use, thanks to the seven new wheelbases with lengths up to 6.90 metres. This allows load lengths of up to more than 9 metres for maximum load capacity.
The longer wheelbases enable fuel tank volumes of up to 1,240 litres, which is according to DAF unique in this distribution truck sector. This results in an even greater range, maximum vehicle availability and financial benefit by refuelling where fuel prices are at their lowest.
DAF's Driver Performance Assistant on LF, CF and XF models provides the driver with detailed feedback on fuel economy, braking behaviour and the way the driver has anticipated traffic situations.