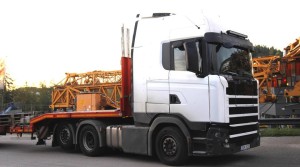 In Norway this Scania was shot by Tungt.no, The cab is very high and this must be the flat floor version that Scania is preparing. The licence p[late says it is a R580 so there must be a V8 engine underneath the cab.
On the photo there seems to be less camouflage than before. The side walls of the cab look pretty good like this but we are shure Scania will suprise us anyway when the truck is launched. The guys of Transportmagasinet even made a video of the new Scania!
For more photo's, click here!