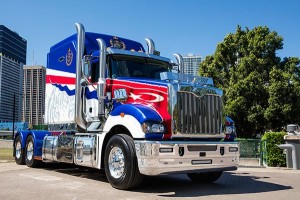 Now here is something special. Mack has completed its most expensive build on Australian soil with a customised Super-Liner on its way to Malaysia's Sultan of Johor.
The bespoke truck features a luxury leisure deck, gold-thread embroidery, a golden tiger hood ornament from Wallace Bishop and a specially-designed sleeper unit 80 per cent larger than standard with imported South African leather upholstery.
Mack Trucks Australia says the price tag for the extravagant truck is a secret, but "it's certainly the highest ever for a Mack truck, easily smashing the previous record of $481,000 for a customised US-built rig."
Built at Mack's Wacol factory in Brisbane, Sultan Ibrahim Ismail's Super-Liner is designed to lug his private powerboat around Malaysia.
The design for the truck began a year ago, Mack says, with its vice-president Dean Bestwick meeting the Sultan in Singapore. Read more by clicking here: