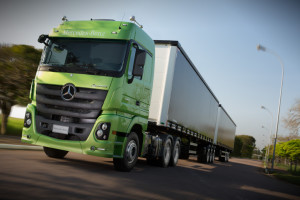 Mercedes-Benz is launching a new model Actros in Brazil. The South American markets don't get the latest version of the Actros as we know it, but an update of the previous model. Let's call it the MP3 model.
There are three types, all with the OM460LA six in line engine with the Powershift transmission. The Actros 2646 6×4 / Actros 2546 6×2, and top model Actros 2651 6×4 with 510 Hp Six in Line.
The trucks are produced in Brazil in Sao Bernardo do Campo near Sao Paulo.