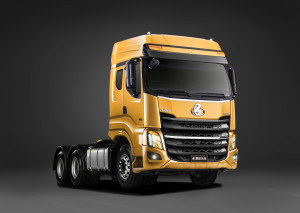 Wabco has signed a long-term agreement with the Chinese truck producer Dongfeng. The deal is mainly about braking systems for the heavy Dongfeng trucks. Also the Wabco systems like ABS, EBS, ESC-smart, ESC and OptiRide will be part of the deal. The Wabco systems make trucks safer and give more stability.
"We are strategically transforming our range of medium- and heavy-duty trucks to be more competitive for long-haul transport and logistics," said Cheng Daoran, General Manager, Dongfeng Liuzhou Motor Company. "We are leveraging WABCO's leadership in safety and efficiency technologies to improve vehicle performance. We also benefit from WABCO's advanced maturity in globalization that results in unmatched local connectivity and service, including local engineering and manufacturing at world-class levels."
"WABCO is proud to become DFLQ's strategic partner of choice," said Sujie Yu, WABCO Vice President, Asia Pacific. "We fully anticipated their advanced vehicle safety and efficiency requirements for current and new truck platforms to better serve the Chinese market and other economies around the world."
"WABCO China is further differentiated by delivering the most cost-effective solutions for systems integration and product applications that are specially designed to satisfy local market needs at industry-leading standards for quality, reliability and service," said Yu. "WABCO helps to continuously increase the competitiveness of DFLQ's trucks over the lifetime of their performance in the field."
In addition, WABCO has recently received three prestigious supplier awards from DFLQ, marking unprecedented recognition for WABCO's outstanding performance. DFLQ granted WABCO awards for superlative contributions and commitment during 2015 in three categories, including best quality, supplier excellence and strategic supplier. DFLQ honored WABCO among a distinguished group of around 1,000 suppliers.
In China, the world's largest market for commercial vehicles, original equipment manufacturers view WABCO as the supplier of choice. WABCO's market leadership there includes ABS, EBS and ESC, among other vehicle safety and efficiency technologies. In 2014, with the introduction of OptiRide, the global industry's best-selling solution for electronic control of air suspension, WABCO became the first supplier of ECAS technology for truck and bus manufacturers in China.
"Winning this new business further demonstrates how WABCO creates a world of difference for customers through technology leadership, global engineering and manufacturing, and excellence in execution," said Yu. "WABCO's locally minded connectivity with customers makes a big difference in successfully anticipating and creatively seizing market opportunities."