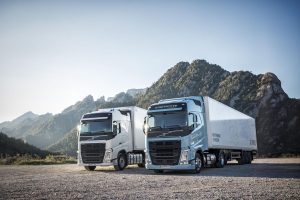 When Volvo decided it would compete in the new class of LNG trucks, which is being dominated by Iveco and Scania, they wanted engines which deliver the same performance as their diesel siblings. It seems that Volvo has succeeded.
Volvo unveils  a thirteen litre LNG engine which is based on the current diesel block and which operates along the principle of self ignition, the diesel principle. This is a major difference with the engines Scania and Iveco use. This is also the reason why Volvo thinks their new LNG engine will be much more fuel efficient than other gas engines. Volvo offers 420 or 460 hp power options with torque ratios of 2100 and 2300 Nm. The engines use, according to Volvo, a very small amount of diesel fuel to ignite the mixture during the compression stroke. Volvo equips the LNG trucks with an I-Shift automated gearbox.
Volvo says that the trucks, either the FM or FH, may haul up to 60 tons with the new driveline. Fuel tanks are available of 115 kg, 155 or even 205 kg of LNG to guarantee a range of up to 1.000 km's. The object of the LNG driveline is to reduce CO2 output by 20 percent. When bio-LNG is being used, the reduction could add up to 100% percent, Volvo says.