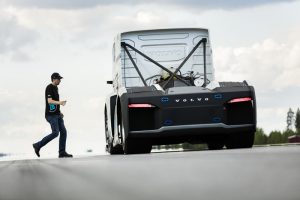 When your main competitor comes up with a new truckseries, you have to mak sure that you still get some attention. Here's why Volvo comes with this. According tot Volvo The Iron Knight is the result of 'unique' cooperation between technicians, engineers and designers at Volvo Trucks. With the exception of the engine and its series-built I-Shift Dual Clutch transmission, the truck is entirely custom-built. With 2400 hp on tap, the truck will attempt to set new international speed records. On August 24 the record runs will be shown on the Volvo Trucks YouTube channel.
A tough challenge and a dream project for the technically-minded. That's how the team behind The Iron Knight describe the task of designing the specially built truck. The powertrain is based on the same unit that sits in a road-going Volvo FH, but the engine has been pushed to its limits to produce maximum power.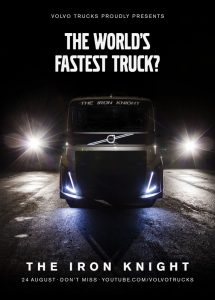 "The Iron Knight is the perfect way to showcase the competence and innovative power of Volvo Trucks. At the same time, our aim was to generate new insights into technical and design solutions. The intention is to transfer some of these to our series-produced trucks," says Claes Nilsson, President and CEO of Volvo Trucks.
The engine in the record-breaker is a mid-mounted and significantly modified D13 unit with water-cooled intercooler and four turbochargers, producing 2400 hp and 6000 Nm of torque. The electric and electronic systems have been scaled down and the software has been re-programmed. All so that the highly tuned engine can communicate optimally with the transmission – an I-Shift Dual Clutch of the same model that is fitted to series-manufactured Volvo FH models. The only adjustment to the gearbox is its reinforced clutch, which is necessary to handle the remarkably high torque.
With racing driver Boije Ovebrink behind the wheel, The Iron Knight will take a tilt at the world record in two categories: 500 and 1000 metres from standstill. On August 24 it will be possible to watch the record-breaking run on Volvo Trucks' social media channels. That's very shortly after the launch of the new Scania. So keep watching Iepieleaks, and check out this little teaser: