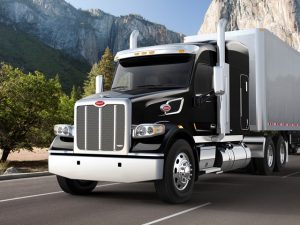 Peterbilt Motors Company recently announced. "Peterbilt's Model 567 Heritage. A model that is a tribute to the original Peterbilt trucks with the narrow cab and the big exhaust stacks behind the doors. This classic look is like a retro truck that should apeal owner-operators in the USA.
The Model 567 Heritage is configured with a 121-inch BBC and set-forward front axle (SFFA) – the industry's most modern SFFA truck – to optimize payloads and weight distribution. It can be spec'd as a day cab or with a 72- or 80-inch sleeper.
Exterior features of the Model 567 Heritage include: Bright bumper, grille bars, exhaust stacks, mirrors and sunvisor; Chromed air intake bezel and metal hood latches; Polished rocker panels, quarter-fender closeout panels, fender brace and brackets, battery boxes and fuel tanks; and Special Heritage badging, uniquely numbered and mounted to the grille and sleeper (when applicable) for the first production trucks. Inside the cab, the Model 567 Heritage has exclusive features and branding that includes: Platinum-level Heritage Brown interior with a black dash top and wood-finish trim; Premium brown leather seats with accent stitching to complement the cab design and embroidered Heritage logo in the headrest; and Door pads with brown wood trim.