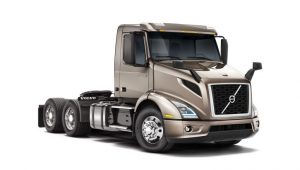 Volvo has introduced a new truckseries for regional haulage in the US.  Based on the European FM-cab, Volvo created a ew bonnet and mounted the 11 litre engine underneath, which is popular in Europe as well. Cool fenders and futuristic headlights complete the package. "It's a worktruck", Volvo says on it's website.
For European drivers, especially the interior looks familiar. Dash, seats and steering wheel are typically Volvo FM. That is certainly not a complaint, as thousands of European drivers enjoy driving their FM in Europe everyday. However, a huge comfort difference with the European FM, is a small fridge underneath the drivers seat. A very cool solution! Although Volvo postions the VNR as a 'worktruck' (we think that every truck is a worktruck) Volvo also offers a microwave in the VNR cab.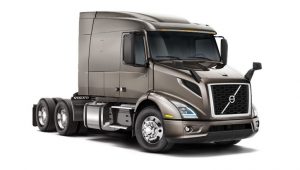 Volvo offers three cab variants, a daycab, a sleeper cab and a sleeper cab with a medium high roof, which actually comes closer the well-known, very succesfull VNL. For the first time in the US, Volvo offers it's 11 litre engine, which is succesfull in Europe, with power options of 325-425hp. The 13 litre engine is available from 375-500hp.  Finally people can opt for a Cummins 15 litre engine. The VNR comes with I-Shift as standard, but it can also be had with an Eaton Fuller ten speed box.