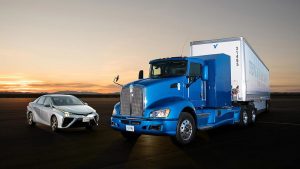 As sales of their fuel cell passenger car fall short, Toyota is looking for other ways to justify it's considerable investments in fuelcell technology.  Therefore, the company introduces a class 8 truck concept which enjoys two fuel cell systems derived  from passenger car Toyota Mirai.
The truck generates 670 hp and can handle gross vehicle weights of 40.000 Lbs, roughly 36 tonnes. It's range is about 200 miles. Toyota seriously studies if it is feasable to develop hydrogen drivelines for trucks.
This initiative comes at a moment when discussion is heard in the automotive world about the efficiency of hydrogen fuelcell drivelines versus battery powered electric drivelines. According to studies, the battery powered electric driveline has the edge and therefore Tesla and Daimler quit spending money on developing fuel cells.
The initiative of Toyota comes just after the announcement of Tesla to come up with a fully electric truck by September upcoming, powered by batteries like their passenger cars. Nikola, which unveiled it's electric truck last December, uses a fuel cell to generate electricity.