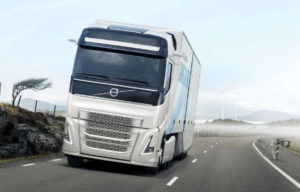 Volvo Trucks just launched the Volvo Concept Truck, a study that saves up to 30% on fuel.
The Volvo has an updated and more streamlined front grille, the mirrors are replaced by camera's and has more aerodynamic features. Also the trailer is modified for less weight and better streamlining.
Volvo says the diveline is also 'improved' but they dont say how. Is this the I-Torque we've all been waiting for with Turbocompound and Common Rail technology? The only thing Volvo is saying in the press release is that they have been working on this concept since 2011.