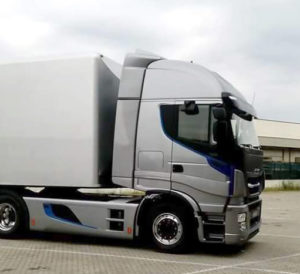 Iveco is going to launch another update of the Stralis cab this year. The new Stralis will be presented soon in Madrid but we found some photo's that already show some news. The biggest news is that the cab is the same as we already know.. but there seem to be some new details.
First of all the small window below the mirrors seems to have dissapeared. Though the photo shows a split side window we do espect that Iveco got rid of this and made one- big side window. The small line on the photo could be tape just to fool us.
The front of this truck is the old grille and we espect to see some of the 'smile' of the EuroCargo and Daily design in the new heavy Iveco's.