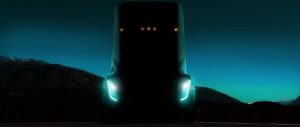 Tesla has annouced the unveiling of a full electric heavy truck, the 'Tesla Semi' in september of this year. Tesla CEO Elon Musk released the first teaser image of the truck, showing not much more than some lights and a slick cab-over engine design. Now we are so lucky to have found another artist impression of the Tesla Semi that you find under this story!
Musk confirmed that the prototype is already working and he even got a quick test drive around the parking lot. He added that the truck "feels like a sports car". Now sportscars is is what Tesla knows all about but how about trucks? When the launch is in september, how will the company get the thousands of test kilometres with the trucks? To us it all seems very optimistic.
Still the Tesla CEO confirmed that the vehicle will be capable of long hauls, which was previously uncertain due to its expected all-electric powertrain which requires an incredibly large battery pack in order to travel hundreds of miles with a large payload. The new Tesla Semi will be a class 8 truck, and that means the normal long haul vehicle for the USA. The Tesla design will look completely different tough, and probably Tesla is going to introduce autonomous driving right from the start.
Details about the charging technologie for the battery's are not known at the moment and we are very curious how this introduction will change the world of transport.