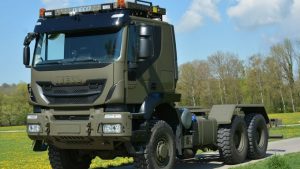 The army of Switzerland renews it's vehicle park with some 400 Iveco trucks. In the past five years, Iveco Defense Vehicles already delivered some 1200 trucks. These 400 new trucks will gradually go into service between this year and 2021.
The Swiss Army has chosen for both Stralis and Trakker models, with all thinkable axle variants. A serious amount of trucks, we don't know how many, will be fitted with an armoured cab.
The Swiss have no truck industry left anymore, after Saurer was bought by Mercedes in 1982. Saurer was based in Arbon, where it sold it's engine subsidiary to Iveco. Here's why we suspect the Swiss favor Iveco trucks for their defense activities these days. Up to this day, Iveco develops diesel engines in Arbon.