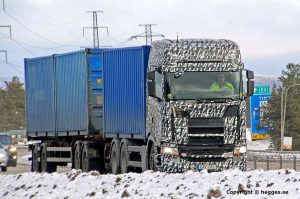 Now here is a picture from Hegges that generated a lot of reactions and speculation. It is the Scania S- cab with highroof, but is it higher than the Highline we know now? The roofspoiler is missing and still the cab is higher than the 20Ft container. The shape of the roof does look a bit different, but it is hard to tell. When compared with the blue Scania S- Highline we start to doubt but the prototype could be a slightly higher cab.
When you start comparing the two photo's keep in mind that the body on the blue truck is much higher.
And if Scania launches another Topline version as the new top of the line, will it have the bunk over the windscreen again like in the first Topline? We are just as curious as you are. Lets wait and see what the future brings!