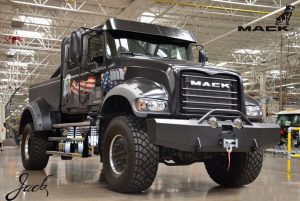 Jack Mack is a four wheel drive pickup truck with a tilting body and 800 Hp under the bonnet! It is a custom made tribute to co-founder John M. Mack, nicknamed Jack Mack.
the custom-built, all-wheel drive, mega crew cab pickup is based on a Mack Granite model and is powered by a 13-liter Mack MP8 engine providing a huge 800 horsepower and 2,800 lb.-ft. of torque.
"Jack is not only a celebration of our rich history, but also a demonstration of the high level of customization we're capable of at our Customer Adaptation Center," said John Walsh, Mack vice president of global marketing and brand management. The CAC is located inside Mack's Lehigh Valley Operations assembly plant in Macungie, Pennsylvania, and customizes Mack trucks for customers whose needs go beyond typical factory options like adding extra brightwork for a custom long-haul sleeper or installing an all-wheel drive system for a municipal snow plow.
Jack rolled off the assembly line on October 27, 2015, the 151st birthday of Jack Mack, according to a Mack release. The chassis was then moved to the CAC to receive its modifications and custom fabrication work. Among Jack's unique features are:
Custom-fabricated mega crew cab body and pickup bed
46-inch tires mounted on custom wheels
All-wheel drive
Custom 8-inch dual exhaust
Back-up and side-view cameras
Touchscreen infotainment system
3D-printed "Jack" name plates modeled on founder Jack Mack's signature
16,000 lb. winch