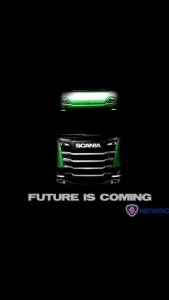 With the official launch coming up in only nine days from now Scania is teasing with the new generation. This photo I found on Facebook, and it shows the complete new layout of the front. The other photo is the scale model again and that one shows two interesting things.
Yes! There will be a V8 engine in the new series and the top model will be the 730 again.
And Yes, there is a completely new model added to the G-P-R- range with the S- model. Now this is going to be the flat floor model that comes above the R- series as we know it.