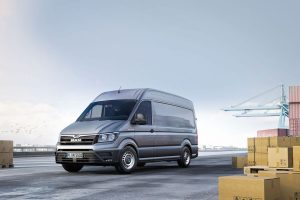 With the MAN TGE, MAN enters the world of transporter vehicles for the first time since the seventies. What started at 7.5 tonnes in the past now has a total permitted weight of 3.0 tonnes. With the TGE, MAN puts a lightweight commercial vehicle on wheels that convinces users who have worked with its big brothers in the heavy truck industry for many years. Designated TGE sales consultants consistently ensure a tailor-made customer solution.
The entry-level MAN TGE starts at 3.0 tonnes permitted total weight – with the upper end of the range being 5.5 tonnes. An additional 3.5 tonnes can be added via a trailer coupling. In an ideal scenario, it can carry up to 1.5 tonnes of cargo.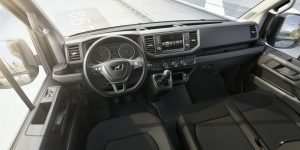 Depending on the permitted total weight, there is a choice between front-wheel drive, rear-wheel drive and all-wheel drive, all of which can be coupled with either a six gear manual transmission or an eight gear automatic transmission. With the MAN TGE, a whole new generation of diesel engines is born. The range of the 1,968 cm3-large engines comprises versions with 75 kW/102 HP, 90 kW/122 HP, 103 kW/140 HP and 130 kW/177 HP.
The new MAN TGE will be on sale from March next near. Production starts in April 2017. The market launch in Germany, Austria, Switzerland and the Netherlands will take place two months later. Additional countries in Europe will take delivery of the new MAN in autumn.