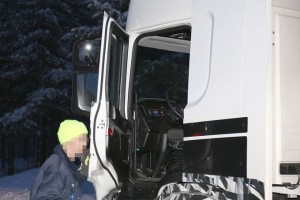 The news about the new Scania is something that keeps us busy here at Iepieleaks. Now some other sources claim they have the very first interior shots of the next generation but we published these pictures already in march 2014! So, always remember where you saw the real news first!
What we see is that dashboard, steering column and adjustment of the steering wheel are not tha much changed. Interesting tough is the mirror. We can see here that Scania seems to follow Volvo with smaller mirror housings in the future. And for the rest, this interior could be not the one that Scania is going to present. These test trucks are a mixture of old- and new stuff and untill the presentation this summer is is not shure what the real design is going to be.
For more news about the next Scania, click this link!