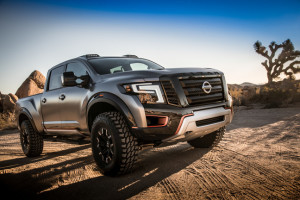 Based on the Titan-pick-up, Nissan unveils a concept pick-up truck at the Detroit Motor Show. The Titan looks quite normal, hence why Nissan went to extremes with this pick-up design, which is called 'Warrior Concept'. Nissan is clearly looking for adventure, this concept actually looks quite aggressive.
The debut of the Titan Warrior Concept at the North American International Auto Show comes exactly one year since the debut of the production Titan XD on the same stage. Titan XD has been named "Truck of Texas" by the Texas Auto Writers Association (TAWA) in their annual Texas Truck Rodeo, which puts the industry's best trucks, SUVs and CUVs through a grueling two-day evaluation. In addition to the competition's top award, Truck of Texas, the TITAN XD won three other honors – Luxury Pickup Truck of Texas, Off-Road Pickup Truck of Texas and Best Powertrain for its standard Cummins® 5.0L V8 Turbo Diesel engine.
Where the Titan Warrior Concept departs from its production counterpart is in the full custom suspension design. In the front, the standard suspension has been replaced with custom upper and lower control arm with performance ball joints, along with racing-style internal bypass reservoir coil-over shocks with custom reservoir mounts and tie-rod extensions.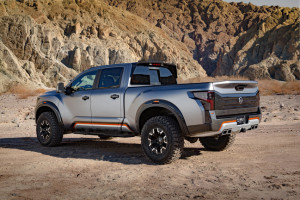 In the rear, the modifications include custom internal bypass reservoir shocks with custom reservoir mounts. Adjusted-length prototype axles were installed, along with a custom sway bar, relocated sway bar brackets and rear lift blocks and U-bolts. Hydraulic pressurized bump stops were also added front and rear.
Ultimately, the new Titan will be offered in three cab configurations, two frame sizes, three powertrain offerings and five grade levels (more information on the full lineup will be available at a later date).
Nissan is not very much active in downsizing, as the pick-up will most likely become available with five litre V8 engines, both diesel and gas.