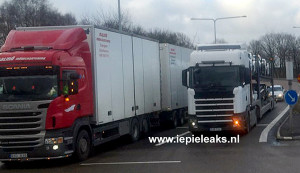 The launch of the new Scania series now only is a few months away. We espect Scania to show the truck to the press this summer. After that the expertation is that the big show premiere will be at the IAA exhibition in Hannover at the end of September. Now all this is just speculation but more and more rumours are spread now.
In the meanwhile we got these photo's from spotters in Sweden. What you see here is going to be the biggest cab with a flat floor. Just compare the truck with the red one at the traffic light. The truck you see carrying two of the Scania trailers is a lower version that can be compared with the Topline as we know it.
And then the small tractor unit with the low cab. That is believed to be a G360 but the cab hight is what we know as a P-cab.. By the way, don't let the side panels of the cab fool you. They look like the existing R- series but that is all very smart camouflage material. The new generation is probably going to look much more modern.
And for those who sent in the photo's, Thanks! Keep them comming! iep@transwebgroup.com
And again, we publish what is sent to us, anonymous if you want so. We can not check where the photo's were made or found. So, if you feel your copyright is violated, please let us know and we remove the picture.
More about the double Swedish trailers including a video you find here!