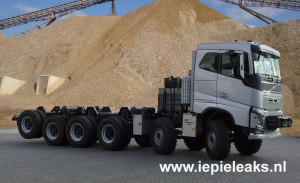 At the BAUMA 2016 show BAS Mining Trucks from Holland will present their Volvo FH16 12×6 dumptruck. The massive truck is built together with Dutch constructor Terberg. The axles are original Volvo exept for the first driven axle which is from Sisu.
Of the four rear axles the last one is non-driven. Two axles are hydraulicly steered. The suspension is also hydraulic and that makes it possible to level the truck before lifting the 37,5 cubic metres big tipper. This Volvo FH16 should be able to transport up to 75 tons of cargo every run.
The BAUMA exhibition will be held in Munich from april 11 untill 17.