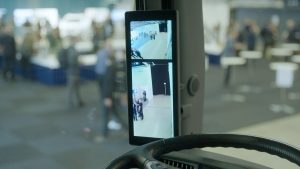 Digital rear-view mirrors on trucks can replace conventional mirrors, reduce blind spots and improve visibility, according to a recently completed research project by Scania.
Rear-view mirrors have not evolved a great deal since they became necessary in the 1960s as a result of the increasing number of highways worldwide, Scania says. Now things could be set to change as a new solution has been developed for truck manufacturers thanks to RISE, Scania and Stoneridge Electronics AB.
Along with Scania vehicle ergonomist Hanna Staf and technicians from Stoneridge Electronics, Azra Habibovic, project leader at the Swedish research institute RISE Viktoria, has created a digital rear-view mirror system prototype that represents a clear step forward. The prototype includes cameras mounted near the upper front corners of the exterior of the cab. Displays on the inside of the cab show the rear view in real time.
Vision improved
By replacing conventional rear-view mirrors with digital ones, the driver's direct vision is improved, Scania says. "Traditional rear-view mirrors typically block drivers field of vision, by replacing them with digital systems it enables drivers to detect pedestrians and cyclists much easier – a typical problem at urban intersections and roundabouts," says Habibovic.
The prototype provides a larger field of view and reduces blind spots, making the driver more aware of potential hazards around their trucks. Furthermore, Habibovic explains: "The automatic panning of the main view is especially useful for following the trailer end when turning or reversing. It eliminates the need for body and head movements to increase the field of view, which is usually the case when using conventional mirrors."
Dirty windows
Another advantage according to Scania is that the prototype provides better visibility when door windows are dirty. During adverse weather conditions, it can be a challenge for truck drivers to spot objects in conventional mirrors.In addition to safety, the digital rear-view system offers reduced air-drag, and enhanced night-time viewing is also possible through an inbuilt infra-red system, Scania says.