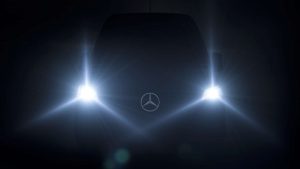 Mercedes-Benz is giving a sneak preview of the next Sprinter that will arrive next spring. Connectivity, electrification and even more specific configurations are keywords for the next generation of the most succesfull delivery van in Europe. The full electric eSprinter is anounched for 2019, after the introduction of the eVito next year.
The third generation of the Sprinter, which will be presented in February 2018, serves as an innovation flagship for an entire vehicle class, above all by virtue of completely new networking services. The internet connection hardware is deeply integrated as an integral part of the vehicle's infrastructure for the first time. This establishes an essential prerequisite for innovative sector-specific services and solutions and their ongoing development in the future.
"We have expanded the already wide-ranging Sprinter portfolio at relevant points and added a multitude of new product features. This will allow us to meet even better the requirements of our commercial customers in the various business sectors, all over the world. One of the particular features of the new Sprinter is its digital networking ability, which offers a whole host of new opportunities to improve efficiency and optimise processes throughout the customer process chain. The Sprinter is part of the Internet of Things and slots seamlessly into the digital world", says Dr Ulf Zillig, overall project manager for the Sprinter at Mercedes-Benz Vans.
The photo's show the interior of the next Sprinter, but this is not espected to be the cheapest version..