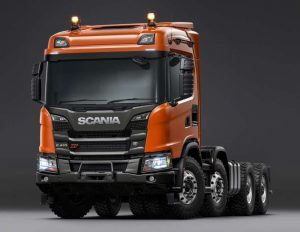 During the event Scania Winter the Swedish truckbrand anounched 10 ton front axles for the XT range. This heavy duty front axle is only available with parabolic steel suspension. The biggest air suspended front axle has a capacity of nine tonnes. Other product news is for mining aplications. Scania now offeres trucks with a payload of 50 tonnes on an 8×4 truck.
The new heavy XT line has new bogies, new front axles, hubreduction, axle gears, a new gearbox and new steering components. Most of these novilties are specialy developed for mining but roadgoing trucks also benefit. All the new options are available as A orders at the Scania dealer.
Scania had a record braking year in 2017. Not only the European, but also the Chinese and the Brazilian market picked up. In total 90.800 Scania's were sold in 2017 and that is an all time high.