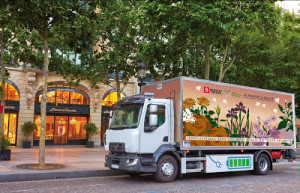 Shortly after announcing D-Series trucks to be equipped with engines running on CNG and on Biodiesel, Renault starts a practice test in Paris with a fully electrically driven D-Series truck which has a GVW of 16 tonnes.
Prefume maker Guerlain and the Paris region carrier Speed Distribution Logistique have joined forces with Renault Trucks to test this all-electric experimental vehicle under actual operating conditions: the 100% electrically-driven Renault Trucks D.
This truck will be carrying out daily deliveries to the Guerlain boutiques in Paris from its distribution centre, covering over 200 km. To operate over such a long route, a first for any electrically-driven vehicle, the Renault Trucks D all-electric will recharge its battery several times during each 24 hour operating cycle. Its route has been planned so that it can carry out two partial recharges during the day and a total recharge between 7:00 PM and 2:00 AM.
The test is scheduled to run until the end of 2015. A full appraisal will then be carried out and added to Renault Trucks' expertise in the field of electrically-driven medium tonnage vehicles and its customers' requirements. This will then be used to determine the direction future research will take.