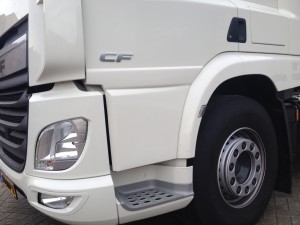 The new DAF CF series comes standard with an open 'staircase' but now there is a nice door-lengthener, produced by a Dutch company 'De Valk.'
The longer doors cover the steps and that looks much better. Many truckdrivers like the fact that with these extra flaps on the doors they can stow their shoes while driving outside the cab. Especialy when working in an Agricultural this is a good way to keep smelly shoes and boots outside the cab.
The new door lengthener comes in two models, for the Euro- 6 CF. The one for the older models and for the Euro-6 with MX11 engine is on stock. The version for the MX13 engine is almost ready for delivery. Click here for De Valk Barneveld.