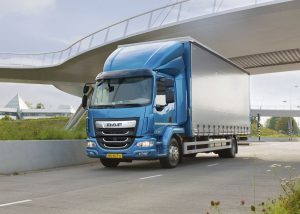 DAF introduces a significant number of innovations to the LF, which will, according to DAF, reinforce the truck's industry position in the 7.5 to 19-tonne class. The innovations include a new 3.8 litre engine and the possibility to select faster drive lines for maximum fuel efficiency. At the same time, the design of the exterior and the interior is aligned with the New CF and XF.
One of the major innovations introduced into the DAF LF is the new 3.8-litre PX-4 engine which is available for the 7.5-tonne version of the LF in two power ratings: 115 kW/156 hp and 127 kW/172 hp with maximum torque of 500 and 600 Nm respectively at between 1,200 and 2,000 rpm. DAF is introducing this new engine specifically in the LF City for light applications within urban distribution.
The PX-5 and PX-7 engines were enhanced at the end of 2016 with new software and optimised heat and air management. As a result, the maximum torque of both engines is 5% to 12% higher than previously available, and occurs at 100 – 200 lower rpms.
Also, with the new, faster rear axle ratios of up to 3.31:1, engine speeds are reduced by 150 to 200 rpms at cruising speed. Combined with the engine innovations, this driveline optimization delivers fuel savings of up to 6%, while driver comfort is further improved by the lower engine noise, DAF says.
DAF offers a selection of manual and automated 5, 6, 9 and 12-speed transmissions in the New LF series. In addition, fully automatic gearboxes are available and now the Allison automatic transmission can also be selected on the most powerful versions of the PX-7 to offer performance specifically tailored for vocational applications.