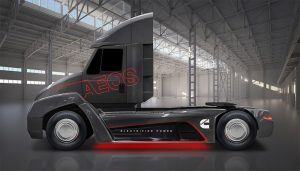 Diesel engine manufacturer Cummins has launched it's very own electric truck. We already noticed that Cummins doesn't sit back and wait until diesel engines have become obsolete. On the contrary, we knew that Cummins was already developing an electric driveline. With the AEOS, this had become reality. It is a 34,5 tonne truck (Class7) with a range of 100 miles. With an extra batterypack, the AEOS can do 300 miles on one charge.
Cummins has replaced the good old twelve litre diesel engine and accompanying transmission and fuel tanks  with an electric driveline with batteries which weighs roughly the same. The truck is meant for distribution work in ciy centres and for commuting on premises of large companies.  Here, Cummins looks to gain experience with this new concept.
The engine giant keeps in account the possibility to equip the driveline with a 4,5 or a 6,7 litre diesel engine to create a hybrid truck. These engines are known for operation in DAF LF trucks. Cummins stresses that diesel engines are certainly not on the brink of extinction. They are much needed in heavy duty transports  and the American manufacturer expects to introduce a completely new generation of diesel engine around the year 2022.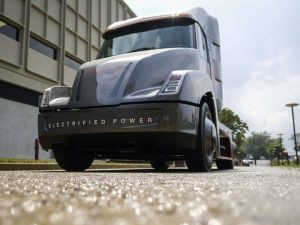 In any way, by showing the world an electric truck, a few weeks before Tesla enters this market, surely is a smart and surprising  move from a manufacturer of diesel engines!