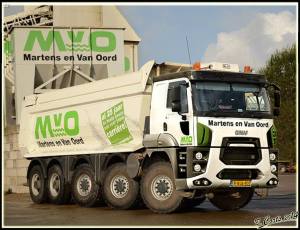 Now this is an artist impression made by Bram Corts from The Netherlands. It shows the new Ginaf HD generation truck with the Turkish Ford cab. Until now that was just a wild guess what Ginaf is up to with their heavy duty mining trucks, but now we have information that this is going to be the real thing.
The new HD5395 tridem steered 10×6 is good for a nominal GVW at 40 km/h of 95 tonnes and a payload of 70 ton!
Engine power is provided by a Cummins QSX15 610 Hp engine that complies to Tier 3. This engine gives 2542 Nm of torque at 1400 revs. The 14,9 liter six cylinder engine is direct injected and electronicly controlled. The gearbox is the As-Tronic automated 12 gearbox with the special Ginaf mining shift software.
The new Ginaf mining truck has steel suspension in the front two axles and the hydraulic HPVS HD suspension on the three rear axles. Axle one and two are good for 13 tons, axles three, four and five are good for 23 tons each.