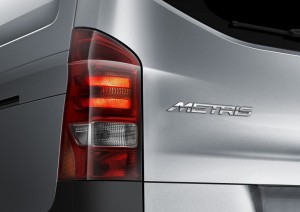 Mercedes just launched a new van on the American market. It is the Vito which will be named Metris in the US. After the success of the Sprinter, that started life overthere as a Dodge, Mercedes has more than enough confidence to try out the Vito there as well.
Some adaptions have to made of course. Another name is useful, as Vito might raise questions to Americans. More importantly, Mercedes introduced an entirely new four cylinder gasoline engine of 1,9 liters, with a maximum output of 211 hp.
Mercedes claims the new Metris to be the safest van on the US-market. It has eight airbags and it comes with seatbelt tensioners. Pressure monitoring of the tyres comes as standard. Mercedes' crosswind assistant also comes as standard. There are more assistants availbale, but they have to be ordered and paid for separately.