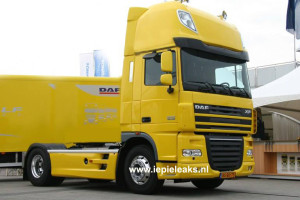 This undeniably spectacular picture of a very short and a very high DAF-cab, seems to be taken at DAF's premises at the Eindhoven factory. What would be the purpose of such a high and meanwhile short cab? Todays' truck legislation doesn't require such a solution as there's enough space for instance for a rigid chassis to accomodate a decent loading area and still offer sufficient space to the driver.
As you can see in this picture the chassis is a tractor, so some clever spy must have been having a real good time with his photoshop equipment. That's what makes this picture unique! The answer to the question is DAF…must therefore be 'no'.
And the name? How about Super Short Space Cab?