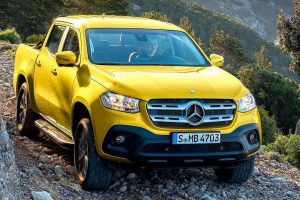 Mercedes-Benz has revealed the new X-Class pickup. With this car Mercedes steps into a new segment. Mercedes-Benz thinks this segment will grow from the current 2,2 million vehicles worldwide to about 3,2 million in 2026. Mid-size pickups are already part of a normal cityscape in many countries, especially in the southern hemisphere. In Argentina and Australia, for example, they account for well over 10 percent of the overall market (2016:12% and 16%). And the markets promise further growth. By 2026 experts anticipate growth just shy of 20 percent in Argentina and six percent in Australia. A high level of growth in the two digits is expected in Brazil, while clear growth is also predicted for Europe with 12 percent. At the same time, the segment of the mid-sized pickups is also changing: The vehicles are not only in demand with commercial customers, rather they are also becoming ever popular as versatile private vehicles with passenger car like characteristics.
The X-Class comes with four- and six- cylinder engines. At market launch you can choose from the common rail diesel X 220 d (120 kW/ 163 hp) and X 250 d (140 kW/190 hp) as well as a petrol engine (122 kW /165 hp). A top-of-the-range V6 diesel will be released mid-2018. The engageable 4MATIC all-wheel drive with low-range gearing and optional differential lock on the rear axle masters any terrain. From the middle of next year a permanent all-wheel drive will complement the portfolio. It will offer maximum performance and traction even while driving on-road with full speed.
The X-Class is manufactored in a production cooperation with Renault-Nissan and is based on the Nissan Navara. Production for the markets in Europe, Australia and South Africa will start in 2017 at the Nissan plant in Barcelona, Spain. The X-Class for the Latin American market will roll off the assembly lines at the Renault plant in Cordoba, Argentina, starting from 2019.