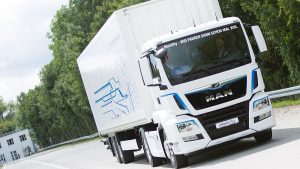 We already saw an electric truck of MAN at the recent IAA in Hanover, but the Germans don't leave this subject after one try. MAN will start experimenting with and eventually producing electric trucks. Here's the introductory path.
MAN buses are the first to take profit of the new technology. Next year, a number of electric buses wil start testing in various European capitals. Also, a trial will start in Austria  with electric trucks. There will be four TGM trucks with refrigerated bodies cooled by Frigoblock machinery. Another three trucks will have swap bodies and there will be two more midsize trucks available. When the tests run as expected, MAN will start building electric trucks in Steyr, Austria. These trucks will be marketed by 2021.
The new electric will be quite strond. MAN has an electric motor available which delivers 476 hp and a massive 3500 Nm torque. The company's testtrucks will run on 18 and on 26 tonnes GVW.
MAN is clear about long distance road haulage: Here, it will take much more time to come with up alternative drivelines. Diesels will be the rule for the upcoming years. We trust it is the same with other manufacturers.