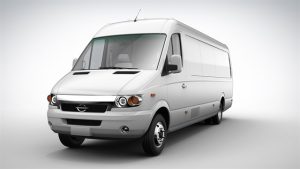 A new startup named 'Chanje', which you pronounce like 'change' has well funded plans to shake up the existing van industry. As we all know, we do not yet see many alternative drivelines in vans, but this will change soon. We've heard that the e-Crafter of the new Volkswagen van will be with us possibly before the end of this year. Meanwhile, Chanje readies this full electric van, which is destined for Asia and the US in the first place.
It's 7,5 tonne van at max, with a cargospace of 19 cubic metres and with a range of a hundred miles depending on the load. That still isn't much, but Chanje clearly focuses on last mile deliveries. The model they made has clear resemblance with the Mercedes Sprinter, which is a success in the areas mentioned.
On a longer term, it is the idea to make a bus version as well. 'Chanje' is being financed from another company with similar products in Hong Kong, named FDG Electric Vehicles. It is not yet known when the new vehicle will be welcomed in Europe. First priority for Chanje is the US market.