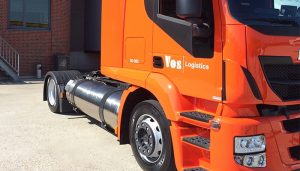 In the ambition to further reduce CO2 emission, Vos Logistics introduced LNG trucks, (trucks operating on Liquefied Natural Gas)  in the international mega trailer network  back in 2015. For this purpose, truck manufacturer Iveco developed five LNG low deck prototypes equipped with double fuel tanks allowing for a range of up to 1,000 kilometers. These trucks have been tested successfully during the past 18 months, according to Vos Logistics.
Based on this experience, the capacity of LNG low deck trucks can be further expanded in the international network of Vos Logistics. In the first quarter of 2017 five new low deck LNG trucks will be taken into operation. Additional expansions are in preparation, Vos says.
LNG reduces CO2  emissions with 15% compared to diesel trucks, Vos says. The investment and maintenance costs for LNG trucks are higher when compared to diesel trucks. However, this is compensated by a lower fuel cost per kilometre; a high kilometer production is essential to achieve a competitive price level, Vos says. An additional benefit of LNG is the fact that the fuel price is more stable and predictable than diesel prices.
In order to fully utilize the benefits of LNG trucks in sustainable as well as financial terms, these trucks are predominantly deployed on lanes where a high kilometer production can be achieved between Benelux, Sweden and France.
'Hotwheels'-concept
Especially for dense transport flows with high requirements in terms of speed, security and reliability, Vos Logistics developed a transport solution named 'Hotwheels'. Careful planning of drivers and trucks allows the LNG trucks to be operated non-stop. In this concept, trucks reach a monthly production of up to 35,000 kilometers, an equivalent of three trucks.
Wojciech Cybulski, operations manager at Vos Logistics explains: "Hotwheels fully unleashes the potential of LNG. A large emissions saving is realized due to the high production of the trucks, while at the same time the solution becomes more cost effective".