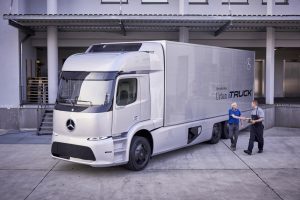 Mercedes-Benz is producing a small series of the all- electric Urban eTruck this year. The trucks are being build for different customers in Europe. The 25 ton truck has a payload of 12,8 ton and a range up to 200 km, wich would be good for distribution.
Stefan Buchner, Head of Mercedes-Benz Trucks: "Following the world premiere in September 2016 at the International Commercial Vehicle Show the customer reaction was outstanding. We are currently talking to around 20 potential customers from the disposal, foodstuffs and logistics sector. With the small series we are now rapidly taking the next step towards a series product."
In fact Mercedes is now going to start a field test with the all electric Urban eTruck. Series production is espected for the year 2020.
There will be different types in the field test, from 18 up to 25 tons. The trucks will be equipped with a refrigerated body, as a dry box body and as a platform vehicle. Together with a special charger which takes into account the increased demands on a truck, the vehicles will be handed over to the customers to use for a period of twelve months and supported by
Mercedes-Benz Trucks road testing department. During this time the use profiles and areas of application will be recorded and the knowledge gained and expectations compared.
The Urban eTruck is part of a comprehensive electric initiative from Daimler Trucks. The light-duty electric truck Fuso eCanter will be in use in a global small series in 2017. Around 150 vehicles will be handed over to selected customers in Europe, Japan and the USA. Daimler Trucks is thus covering a wide application portfolio of electric trucks all over the world.
Daimler Trucks is expecting the costs for the batteries of an all-electric truck to fall by a factor of 2.5 from 1997 to 2025 – from 500 euros/kWh to 200 euros/kWh. At the same time the energy density of the available batteries in this period will rise by the same factor from 80 Wh/kg to 200 Wh/kg.