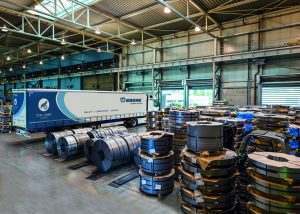 German trailer producer Krone just sent a press release that anounches higher prices for trailers in 2017:
Commercial vehicle industry under economic pressure
Due to massive increases in raw material and energy prices, moderate price adjustments are unavoidable. 
Werlte, December 2016 – Due to the current conditions on the international raw material and energy market and the negative impact of the dollar / euro parities, the Krone Commercial Vehicle Group is forced to increase its prices for the product portfolio by an average of 3.6 percent on 1 January 2017. This measure is unavoidable as a reaction to the currently massively rising raw material prices for steel, aluminum, crude oil and gas. "The economic environment for the commercial vehicle industry remains challenging," emphasizes Bernhard Brüggen, CEO of Krone Commercial Vehicle SE, adding: "In the entire value chain, the essential cost drivers have been consistently reduced to a minimum. The overall situation forces us to make these price adjustments. "Depending on the product group and the individual use of materials, the prices are moderately adjusted in line with market conditions.