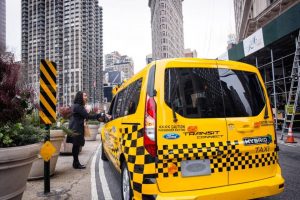 Ford has unveiled details of seven of the 13 new global electrified vehicles it plans to introduce in the next five years, including hybrid versions of the F-150 pickup and Mustang in the U.S., a plug-in hybrid Transit Custom van in Europe and a fully electric SUV with an expected range of at least 300 miles for customers globally.
The moves are part of a $4.5 billion investment in electrified vehicles by 2020. The plans are part of the company's expansion to be an auto and a mobility company, including leading in electrified and autonomous vehicles and providing new mobility solutions.
The seven global electrified vehicles announced today include An all-new fully electric small SUV, coming by 2020, engineered to deliver an estimated range of at least 300 miles, to be built at the Flat Rock plant and sold in North America, Europe and Asia,  a high-volume autonomous vehicle designed for commercial ride hailing or ride sharing, starting in North America. The hybrid vehicle will debut in 2021 and will be built at the Flat Rock plant. Also to expect is a hybrid version of the F-150 pickup available by 2020 and sold in North America and the Middle East. The F-150 Hybrid, built at Ford's Dearborn Truck Plant, will offer powerful towing and payload capacity and operate as a mobile generator, Ford promises.
Also expect a hybrid version of the Ford Mustang that will deliver V8 power and even more low-end torque. The Mustang Hybrid, built at the Flat Rock Plant, debuts in 2020 and will be available in the North America to start. And finally there will be a Transit Custom plug-in hybrid available in 2019 in Europe engineered to help reduce operating costs in even the most congested streets.
Two new, pursuit-rated hybrid police vehicles are also on the list. One of the two new hybrid police vehicles will be built in Chicago, and both will be upfitted with their police gear at Ford's dedicated police vehicle modification center in Chicago.
In addition, Ford announces that its global utility lineup will be the company's first hybrids powered by EcoBoost® rather than naturally aspirated engines, furthering improving performance and fuel economy. The company also plans to be as aggressive in developing global electrified vehicles services and solutions. These include EV fleet management, route planning and telematics solutions.